Resolutions: www.airressys.com
use 'admin' 'admin' to log into the back office areas.
An Airline Reservations & Management Reporting System designed by Caribex, Inc.
Reservations, Flight Management, PAP (Passenger Affinity Program), Departure Control and Revenue Accounting
All in one package
All in "Real Time"
RESOLUTIONS IS An Airline Management System designed for maximum ease of use.
High Level of Security and Confidentiality.

Cost effective – low set up and operating costs.

Extensive reservation and reporting capabilities.

Easily customized to meet your specific needs.

Extensive On-line Management Information.

Integrated Departure Control, Electronic Ticketing and Baggage Tracking.

User-Definable Text Blocks

Designed to take advantage of the Internet and it's many advantages

No special hardware required

Immediate and easy access to the public increases direct sales potential.

Low Cost - Minimal Set-up Fees and Deposits
How Does RESOLUTIONS compare with other Hosted Systems?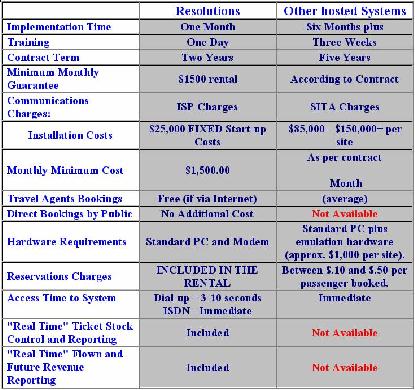 Management / Accounting Reports Available on RESOLUTIONS
PLEASE NOTE
CUSTOMIZED REPORTS available including on line budget and virtual check book
Reservations Control:
Passenger List / Pre-flight Check-in
Passenger List / Not Ticketed

Passenger – Special Requests

Future Booking Report

List of Confirmed Bookings per flight

List of Bookings on Option

List of Bookings Requiring Action

Waitlist / Status Report
Departure Control / Airport Reports:
Passenger Manifest / Boarding List

Baggage / Cargo Manifest

Go Show List

No Show List

Flown Revenue Report

Issue Boarding Passes (Function)

Weight and Balance (Report customized to airline's spec's)

Luggage Tracking (Baggage Tag Search Function)
Booking and Flown Statistics:
Booking Statistics (Past / Present/ Future)

Open Bookings (Confirmed not Boarded)

Percentage of bookings to no shows / go shows by route, etc.

Load Factors

Revenue Seat Miles
Agents Reports:
Daily Sales Report

Weekly Sales Reports - Open Ticket Summary

Seats Booked and Seats Canceled by each agent

"E-Ticket" Stock Control -- Outstanding / Open Ticket Reports.

Debtors reports

Agent performance by route
Accounting / Reconciliation Reports:
Maintenance Reports and Statistics
CONTROL
A remarkable cash flow control program that creates a vendor page for each payable and allows the input of limiting payments based on the companies projected or historical figures. The program features a virtual check book or electronic transfer format that replaces the "paper" check book. This is a separate program that can be offered separately or along with RESOLUTIONS.
See a live demonstration and play with the program at
www.AirResSys.com